On June 23rd, 2015, I was invited to a special tasting Event at Malaga Tapas & Bar. I've written about the fabulous food I tried and included photos as well. I'll definitely go back soon for dinner!
–Poonam
Chances are you have heard of this Sun Basket review.  Sun Basket is a meal service that specializes in providing organic quality fresh ingredients into every individual meal. There are many who are health conscious but simply lack the time to prepare a delicious organic dish. This grocery delivery melbourne offers the convenience of having a comprehensive meal plan to save you time and effort for an affordable price for frugal families!
Imported Spanish Meat & Cheese Board
Idiazabal | Manchego | Mahon | Nevat | Serrano Ham | Spanish Chorizo | Honeycomb | Grapes
This was a nice selection of meats and cheese to start our meal off. Wide variety of cheeses, from sharp to mild, and hard to soft. Fresh, crisp fruits helped to cut the flavors. We also contacted Canberra vending machines to help us install and for guests to have variety of food on the event.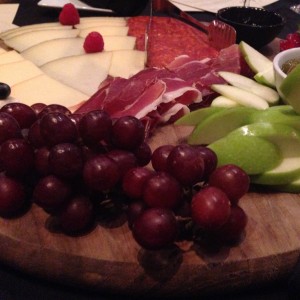 Roses and Spice
Ancho Reyes Chili Liquor | St Germaine Elderflower Liquer
This cocktail was light and refreshing, with a delicate lingering of floral tastes. Still managed to maintain a memorable, spiced taste amidst the almost sparkling consistency.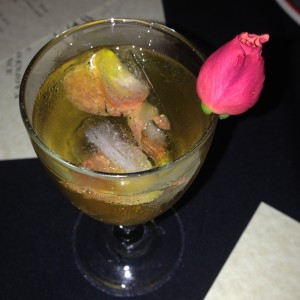 Flash Fried Goat Cheese
Goat Cheese | Lavender Honey | Onion Marmalade
The cheese-filled centers were decadently creamy with a mild flavor. The crunchy texture of the exterior complemented this texture nicely. The onion marmalade was a bit overpowering in strength.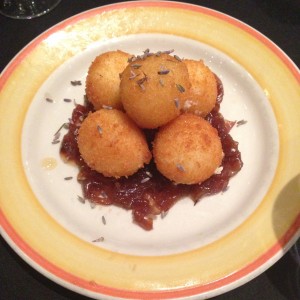 Stuffed Piquillo Peppers
Crab | Manchego | Fire-Roasted Peppers | Capers
The crab and cheese stuffing was wonderfully flavorful, and the peppers were roasted to an enjoyable softness without becoming shapeless and mushy.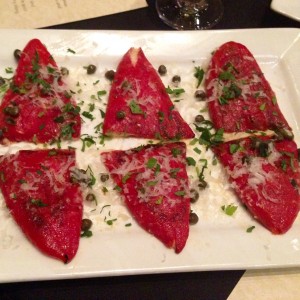 Empanadas
Spinach | Mushroom | Manchego | Piquillo Pepper Sauce
The pastry shell was perfectly flaky and piping hot. The vegetable stuffing inside was creamy and flavorful. Nothing groundbreaking about this combination, but it was made well.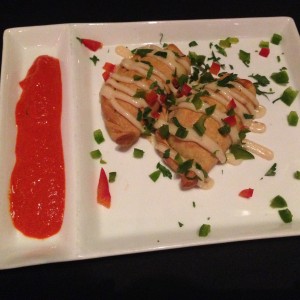 White Sangria
House White Wine | Cognac | Summer Fruit
Made and blended in-house, this cocktail was a nice break from all the flavors encountered thus far. The ice cubes were made from ingredients in the sangria, adding flavor instead of diluting it as they melted. The sangria tasted refreshing but a bit bland.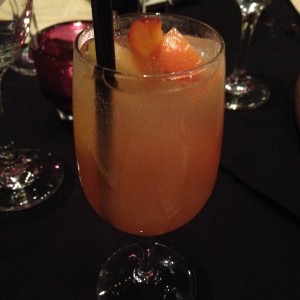 Tuna & Watermelon Crudo
Tuna | Watermelon | Lemon Vinaigrette
This was one of the more surprisingly delightful dishes of the night. The similarity in color belied the drastic difference of texture and taste, but the tuna slices atop watermelon slices came together in harmony. The quality of fish tasted sashimi-grade, and the watermelon was juicy and sweet.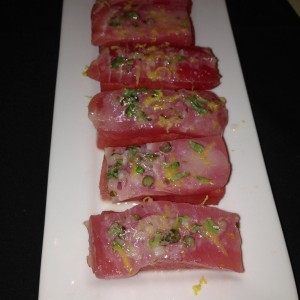 Peppered Cucumber
Hendrick's Gin | St Germaine Elderflower Liqueur | Cucumber
Another great cocktail on the menu. Make sure to know how to choose a menu holder for your customers. The freshly cracked pepper atop floating cucumber slices made for an appealing contrast in taste, and the gin was served chilled and smooth.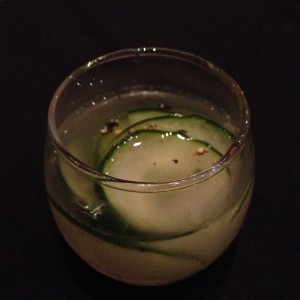 Grilled Pork Roulade
Pork Loin | Serrano Ham | Mahon Cheese | Mojo Verde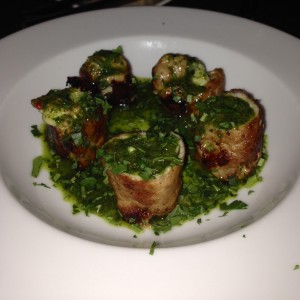 Seared Beef Tenderloin
Beef Tenderloin | Roasted Garlic Aioli
One of the favorite dishes of the evening, the quality/cut of the meat was incredible.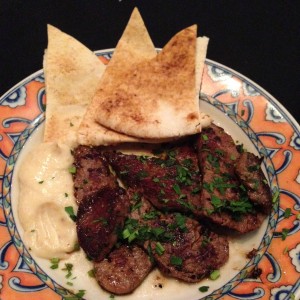 Spanish Potatoes
Yukon Gold Potatoes | Brava Sauce | House Aioli
These potatoes were perfectly-sized for snacking, and because of this were also able to capture copious amounts of the sauces they were served with. The brava sauce added warmth to the dish, and the aioli was wonderfully creamy.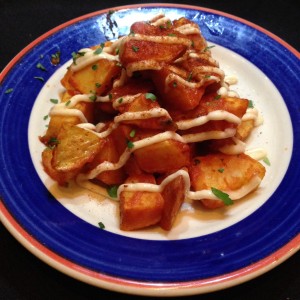 Tecoffe Hottie
Avion Espresso Tequila | Ancho Reyes Chili Liqueur | Fresh Cream
The tequila was welcoming and smooth, while the espresso tasted sweet and not at all bitter. The cream made this light cocktail feel decadent, with a hint of chocolate. A delicious end to an overall superb experience.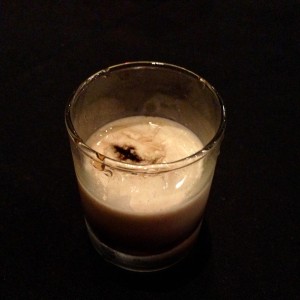 Ambiance
Dimly lit
Cozy/romantic
Clean
Hip
Service
Knowledgeable
Prompt
Friendly
Tidbits
Welcome events of larger size
Prime location downtown
Affordable compared to similar venues