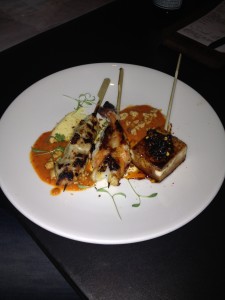 Restaurant: Sway
Location: South Austin, 1417 South First Street, Austin, TX 78704
Phone: (512) 326-1999
Price: Appetizers – $6 to market price; Entrees – $13 to market price; Desserts – $3 to $12
Hours: Sun-Wed 11am to 10pm; Thurs-Sat 11am – 11pm
Food (8/10)
(8/10) Satay
A combination of charcoal grilled pork, shrimp and tofu served with kewpie mayo, red chili peanut sauce, and Sway's salt and pepper combination (schezuan pepper and fermented bean paste). The dish is simply prepared, with the pork and shrimp charred on the grill while the tofu combined a velvety texture with a charred, crisp exterior. The accompaniments exploded various flavors with the salt and pepper combination standing out. The pepper offered slow, deep spice note. Sway uses this combination in many of its dishes.
(8/10) Pad Kwetio
Sway offers 3 various noodle dishes. This dish utilizes wide rice noodles with pork belly, Chinese broccoli, tofu and black wok water (which tasted like a combination of soy sauce infused with various Asian flavors (ginger, lemongrass, etc)). The wide noodles soaked up much of the sauce. The pork belly was crisp, the tofu was soft and smooth, and the Chinese broccoli was barely cooked through, offering a great textural contrast.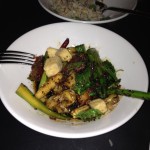 (9/10) Son in Law
Sway's signature dish involves braised pork shoulder, thick soy sauce, chili vinegar, and a crispy soft boiled farm egg. A soft boiled egg is rolled in panko and quickly fried, then split open and served on top of the pork. The dish also is topped with thai basil and crispy shallots. As typical with Thai cuisine, the dish enhances sweet-spicy-salty-bitter-sour basics, with this dish focusing more on the spice from the chili vinegar and saltiness from the thick soy. The oozing egg yolk cuts through the dish with a savory note.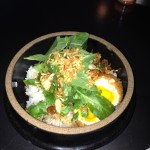 (8/10) Blue Crab Fried Rice
Sway offers 4 different variations of fried rice (blue crab, beef, chicken, and vegetable). Their fried rice differs from the fried rice you'd typically get at Chinese restaurants because it isn't soaked in soy sauce. The blue crab fried rice is flavored with lemongrass, ginger, snow peas, scallions, thai basil and scrambled eggs. The blue crab is generous within the dish. A light rice dish that serves as a great side course for the various curries and stir fries on the menu.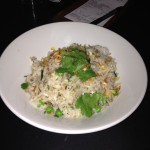 (9/10) Salt and Pepper Cuttlefish
Another segment of Sway's menu is its salt & pepper fried dishes. For now, Sway offers blue prawns, cuttlefish, tofu and lobster. The lobster dish is usually one 1.5-2 lb lobster and typically is priced in the $40 price range. Cuttlefish is similar in texture to squid/calamari. The portions are larger than calamari, yet it remains tender. Cuttlefish is fried in a rice flour mixture and then mixed with the schezuan pepper and fermented bean paste mix. It came served with a chili dipping sauce but it's really unnecessary as you get plenty of flavor from the salt and pepper combination.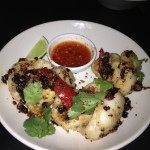 (8/10) Coconut Lychee Sorbet
For dessert, Sway offers a selection of single scoop sorbets and ice creams for $3. Flavors include coconut lychee sorbet, mango calamansi sorbet (a citrus fruit native to the Philippines), milk chocolate 5 spice ice cream, avocado sorbet, condensed milk ice cream, and cashew caramel swirl ice cream. Their composed dessert dishes takes classic ideas and spin a Thai twist to them (semifreddo, affogato, panna cotta, etc). The coconut lychee sorbet was a simple, clean finish to the meal, with the citrusy lychee being the stronger component of the dish. Crunchy amaranth (a type of grain) sits on the bottom of the dish, offering a good textural contrast.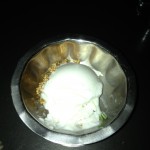 (7/10) Service
We dined on a Friday evening, around 9pm. The restaurant was incredibly busy and had a wait time for about 60-90 minutes. Sway does have a bar that serves various Asian beers, sake, and a variety of teas, coffee, and drinking vinegars so one can spend some time there before a table is ready. Service is efficient at the beginning as waters are quickly served, an introduction is given on the menu, and drink/appetizer orders are taken. Though due to the heavy volume at the restaurant, there can be a wait for food and drink orders. For the most part, the wait staff does a good job keeping guests informed. As the night winds down, the level of attention picks up so it's possible this is just a restaurant learning to handle its high volume.
(9/10) Ambiance
Sway is an open restaurant with a modern, sleek decor, with somewhat loud music blasting through the speakers. It can be loud at times so it may be difficult for larger parties to hear each other but can be ideal for parties of 2. The bar offers a few seats and you can order both food and drink there. There's a section of tables outdoors, which would be inviting on cooler summer nights. The tables within the restaurant leads to communal seating as 3-4 parties will be seated at each table. The prime seats would be at the kitchen counter with the main attraction being the open kitchen as you can see chefs do their thing right in front. In a short time, Sway has gathered quite a following as most evening nights involve an hour or so wait. At the end, Sway offers exotic flavors and a more modern take on Thai food in a modern setting. With the chefs of La Condesa taking the reins here, it seems like Sway will be a permanent hot spot in the South First Street dining scene.
Reviewed by Shaun, AustinFoodRatings.com